12 Best Restaurants in Downtown Tampa (2023)
Today I am going to share some of the best restaurants in Downtown Tampa. Tampa has some many restaurants that it is very difficult to find the best one out of all, right? well, that's why I am here to help you
Being on the edge of the land, right on the coast of Florida, the restaurants in Downtown Tampa offer some yummy coastal food. You won't just find seafood but also other delicacies from around the world like those from Mexico and France. So as a foodie are you ready to find some of the best restaurants here?
Downtown Tampa has some lovely restaurants like Eddie and Sam's, Malio's, American Social, and everyone's all-time favorite – the Columbia Restaurant.
So gear up and get ready to satisfy your cravings for some delicious food. Keep reading to find out more about these restaurants. 
List of Best Restaurants in Downtown Tampa
So here I am going to share some of the best restaurants in Tampa, so if you want to have the best food experience in Tampa then make sure to visit at least one of the below restaurants in Downtown Tampa.
1. Ulele
Are you looking for some great seafood with tasty appetizers? It's right here in Ulele. Located close to the Hillsborough River, it has both indoor dining as well as an amazing outdoor waterfront dining.
You have to try out their most popular dish which includes the Seafood Risotto that has pan-seared shrimp and scallops, crawfish tail meat, lobster claw topped with charred com cream sauce, and vegetables. They are also famous for their charbroiled oysters and blackened redfish.
If you prefer gluten-free food, you can mention it to the wait staff and they can arrange the best dishes for you to enjoy. You can enjoy lunch or dinner with your friends or family or pick up your food from the curbside pickup.
2. Edison
The perfect place for a casual dinner, Edison will satisfy your longing for a great dining experience. Located on West Kennedy Boulevard, Edison serves innovative American dishes which are introduced to the menu on a daily basis.
They have exciting flavors that are invented and inspired by the chef to give the diners a great taste of American delicacy. With warm, attentive, and knowledgeable wait staff, you can rely on their suggestions of the chef's best dishes for that day.
Some of their must-try dishes include raw oysters with black garlic soy sauce and vindaloo curry cocktail, warm sugar-spiced Florida fish, and burrata. They also have facilities for delivery and takeaway.
3. Columbia Restaurant
One of the historic places of Downtown Tampa, Columbia restaurant has been running since 1905. You can have fun-filled weekends with their live music and dance shows.
For all those Spanish cuisine lovers, Columbia restaurant is the one that you should visit. This place is known for its Spanish-Cuban dishes. I have been there several times, and what I liked the most is the Cuban sandwich, since I am not a big-time Spanish cuisine lover, I don't order anything else but if you wanna taste some Spanish-Cuban dishes then this is the perfect spot for it.
They also serve chicken with rice Ybor which is the traditional food from the Ybor city of Tampa.
Overall this place is really good and I will definitely give it the number 3 spot in our list of Best Restaurants in Downtown Tampa.
4. Cena
Cena is located in the heart of the Channel District and is a beloved restaurant to all the locals here. This restaurant is a haven for people who love simple yet unique Italian-inspired food.
From the moment you enter the area, you can smell the delicious aroma of their octopus salad which is mixed in Calabrian hot sauce and olive oil, meatballs, and shrimp. Other famous foods include their various pasta types, pork chops, and Rustic Bolognese which is beef short rib, braised pork with tomato and ricotta.
Whether you are looking for great Italian food or a lovely ambiance, Cena is here to offer them both. I would recommend you make reservations before you dine as it will save you from waiting in lines or queues.
5. Eddie and Sam's
Are you on the hunt for New York-style pizza in Downtown Tampa? Eddie and Sam's is famous for bringing out the authentic flavors of New York pizzas right in the middle of Tampa. From cheesy fries and crispy french fries to New York-style cheese pizzas and chicken wings, Eddie and Sam's have it all.
Some of their best pizzas include Cheese pizza, meat lover, Bianca with Grilled chicken, veggie pizza, Hawaiian pizza, and lasagna pizza as well. Visit Eddie and Sam's and satisfy the pizza lover in you!
It is located on East Twiggs Street and has facilities for dine-in, curbside pickup, and no-contact delivery for online orders as well.
6. Malio's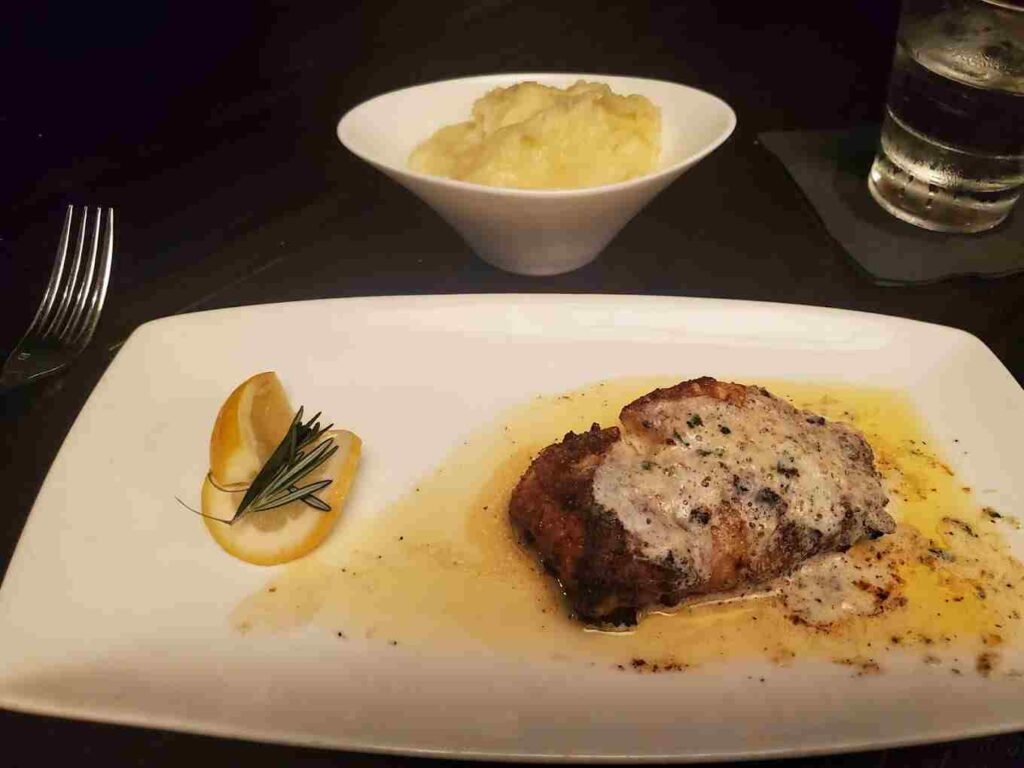 Visit Malio's for some of the best steaks in the city! Experience the finest dining experience with a beautiful ambiance and great dishes. They serve their steaks with seasoned beef with herb butter and spices.
They also have a great selection of appetizers that include seafood like Ahi Tuna Tartare with pickled ginger, avocado, and wonton chips, Lobster Escargot that is baked in garlic butter, and Oysters on the half shell with mignonette sauce, cocktail sauce, and horseradish.
You might want to make a reservation before going to Malio's as it is usually packed and brimming with diners. You can also book a private event here. Malio's is located on North Ashley Drive and has facilities for dine-in and takeaway.
7. Rooster & the Till
Another restaurant in our list of best restaurants in Downtown Tampa is Rooster & the Till.
This place has been featured in the top 50 restaurants of Tampa Bay and with their inventive New American small plate dishes, it's no surprise! 
Their A5 Miyaki hand roll with grilled enoki mushrooms is one of the most popular dishes that will keep you coming back for more.
Along with rolls, you might also enjoy their scallops with their unique salsa and puree. They have an extensive menu that keeps evolving on a regular basis and definitely makes it all the more exciting to try out their food.
You can also enjoy the Happy Hour with your friends with their well-thought-out dishes and drinks. It is located on North Florida Avenue.
8. Bern's Steak House
Talking about steaks, Bern's Steak House is another place where you can find perfectly aged steaks made by some of the best chefs in town. These well-seasoned steaks are made with great delicacy and care for their flavors to give you an experience worth remembering!
It is located on South Howard Avenue, where some of its best steaks are the Filet Mignon, dry-aged Delmonico, and Chateaubriand. They have a specialty cuts section on their menu which is a special steak preparation.
The ambiance of this restaurant is beautiful and in addition to the delectable steaks, they also offer a well-curated and the world's largest selection of wines to complement your meal.
9. Hattricks
If you are looking for a casual dinner with your family or friends, Hattricks is the right place and combines fun and relaxation in one. With a sports bar and a great restaurant, it is one of the favorites among Tampa's locals.
Get your mini-party started with their chicken wings where you can choose the type be it barbequed or sprinkled in garlic parmesan flavors. They also have their classic burgers and sandwiches with cheese, tomatoes, and any choice of meat.
Located on South Franklin Street, it is the perfect spot for all sports fans out there.
10. American Social
Talking of sports bars, next on this list we have another luxury sports bar that also features an intimate dining room with a waterfront view. If you love some fun and liveliness, they have live music and themed nights that you need to visit at least once!
With a wide range of wines, cocktails, and great dishes, American Social is perfect to have a great time with your family, friends, or partner. Some of their popular dishes include the Steak Frites with Chimichurri and Truffle Aioli and the Steak Bomb Pizza with shaved beef and applewood ham.
Be sure to try their burger Monday and taco Tuesday available all day for dine-in only. It is located at the Pointe Marina and is available for dine-in as well as delivery and curbside pickup of your orders.
11. Datz
The best place for comfort food and I am not joking! If you crave some easy and delicious food, which is affordable and has a nostalgic feel about it, Datz is the perfect place.
It is located on MacDill Avenue and is known for its simple meals that bring out the best feelings. Did I mention it has the most comforting environment? Yes, it totally does. It's a place where you can find comfort food and also a place where you can throw a party, be it a birthday party, graduation party, or a get-together.
They have the best mac n cheese that will make your taste buds dance in ecstasy and the biggest biggity burger you'll ever see! So head over in your pajamas or a party dress, enjoy the food from Dat and walk out feeling good inside and out.
12. Urban Cantina
For all my Mexican cuisine lovers, I am sharing the best restaurant in Downtown Tampa for Mexican food and that is Urban Cantina. This place is located on Madison Street and believe me this is the best Mexican restaurant in Tampa.
They have everything from tacos to burritos and if you are looking out to eat healthy food, they have an alternative for that too! Let me tell you though, Urban Cantina is always buzzing with people so make sure you're prepared for that.
Mexican food is not complete without Tacos, right? so, if you are about to visit this place then take my suggestion and order the Taco Party plate, it has around 5 different tacos that all taste so good together.
So grab your friends and head to the best Mexican restaurant here!
Conclusion
So whether you're looking for some seared scallops, drool-worthy tacos, or some finger-licking good chicken wings, you will find it here in Downtown Tampa.
You can get your party started, or propose to your partner, or celebrate your promotion with friends and family, whatever the occasion may be, you can find the perfect spot in Tampa.
So, this was the list of Best Restaurants in Downtown Tampa. Do comment below and tell us which one is your favorite restaurant in Tampa, Florida.