12 Best Rooftop Restaurants in Nashville (2023)
Today I am going to share some of the best rooftop restaurants in Nashville that have some stunning views. So, keep reading this informative guide till the end.
Rooftop restaurants are gaining rapid popularity due to the fancy ambiance, stunning views, and tasty food. If visiting a rooftop restaurant in Nashville is on your bucket list, fret no more! I have compiled some of the best rooftop restaurants in Nashville for you to choose from.
Nashville has rooftop restaurants that offer a mix of delightful cuisines at the highest parts of the city in places like Acme Feed & Seed, Bourbon Steak, Bobby's Hotel Rooftop Lounge, and The Twelve Thirty Club.
You can find the best place to enjoy a rooftop view in Nashville here, so keep reading to find out more!
Best Rooftop Restaurants In Nashville
Here I am sharing the top 12 best rooftop restaurants in Nashville, so if you are in Nashville or planning to visit Nashville in near future then don't forget to visit some of these cool rooftop restaurants to enjoy the stunning views.
1. UP, A Rooftop Lounge
UP, A Rooftop Lounge is a well-renowned restaurant among many locals of Nashville for its stunning aerial view and relaxing vibe. Located on Division Street, they are known to have casual favorites such as burgers and fries.
You should try their truffle fries and crisps and the hot (like, really HOT) chicken wings. Try some great and unique dishes, clink glasses with your friends and family, and sit back and enjoy the view! 
Address:
901 Division St, Nashville, TN 37203
2. Bourbon Steak 
Can you imagine being surrounded by the sky, while having some of the best seafood and shellfish? Sounds like heaven right? Bourbon Steak can give you this fantastic and heavenly experience with its high-quality dishes, excellent service, and a great selection of wines to choose from.
I would recommend you try their shellfish platters that come with 4 oysters, 4 gulf shrimps, half a lobster, and a king crab. They also serve Japanese Wagyu that will melt in your mouth with its fantastic taste and unique flavors.
Bourbon Steak is located in JW Marriott and provides an unforgettable dining experience. You might want to remember to make reservations before going here as it can be tedious to wait long in line for walk-ins.
Address:
201 8th Ave S 34th floor, Nashville, TN 37203
3. Rare Bird
Did you just have the longest day and want to let loose? Or just hang out with your friends and enjoy a good drink or two? Rare Bird offers a well-curated selection of cocktails and uncaged spirits to sip on while you enjoy a lovely view of downtown Nashville.
You can try the best chicken sliders in town right here in Rare Bird. While their chicken starters are magical, the one that definitely stands out is their Rarebird wings which are covered with boom boom sauce and mango red chili buffalo sauce.
So head over to Rare Bird on the 4th Avenue North Top Floor, and immerse yourself in a lively and unforgettable experience.
Address:
200 4th Ave N Top Floor, Nashville, TN 37219
4. L.A. Jackson
L.A. Jackson is one of the world's most famous rooftop restaurants located in Thompson Nashville which is the perfect destination for a great celebration.
With a great selection of drinks, you can wind down after a hectic day and enjoy the view of sunset or nightlife. I would recommend you go to watch the sunset view from here, it will leave you in awe!
Don't forget to try their garlic parmesan fries and champagne chicken. You need to keep in mind that they do not take reservations and follow a system of first come, first serve. 
Address:
401 11th Ave S, Nashville, TN 37203
5. Zeppelin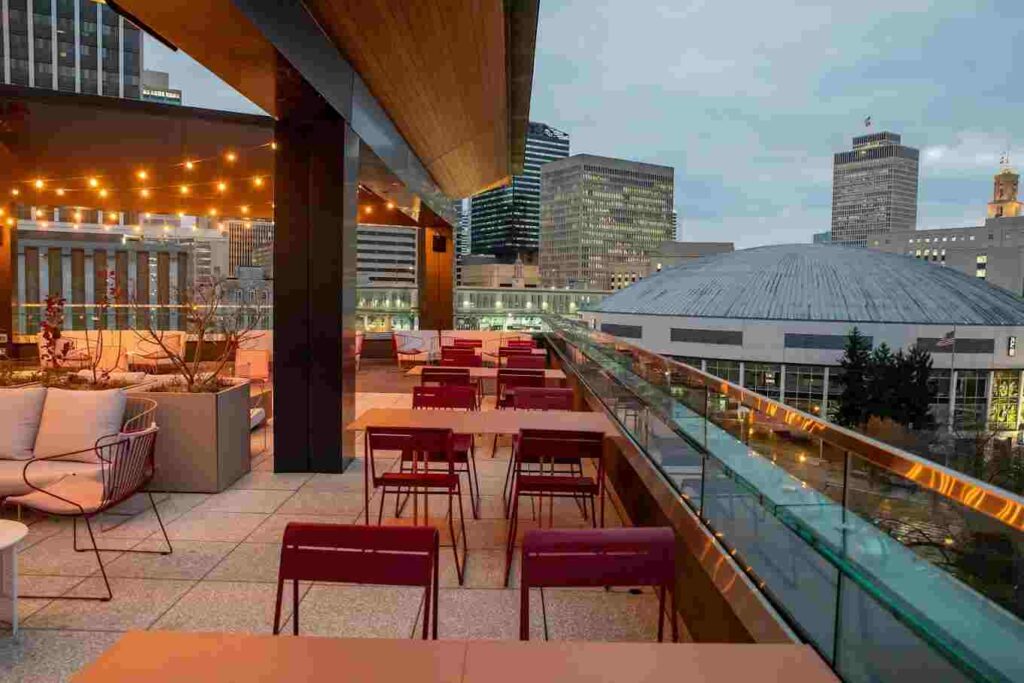 Another popular rooftop restaurant in Nashville is Zeppelin. This rooftop lounge is my favorite and I have some memories attached to it, and you must be wondering what memory, right? well, I celebrated my girlfriend's 18th birthday and it was really a good experience.
This place is located on the first floor of TownePlace Suites and I would say it is a very perfect place for all occasions, whether you want to chill with your large group of friends or you want to have a romantic date while enjoying the view, this place won't disappoint you.
If you manage to go there then don't forget to enjoy their drinks section, they have some unique drinks and whenever I go there I always make sure to order drinks with arancini risotto cheese balls, and shrimp.
The best thing is this place has both indoor and outdoor seating, so as per your preferences you can choose accordingly, I mostly opt for outdoor seating because I really love the fresh air of Nashville.
But even if you want to get indoor seating, the windows are made to give an open-air view which is really amazing according to me.
Address:
505 3rd Ave N, Nashville, TN 37201
6. Acme Feed & Seed 
Looking for some great dishes, extraordinary views, and a live music show? Acme Feed & Seed is the perfect spot for that. It is a multilevel restaurant along with a rooftop bar.
Some of their popular dishes are chicken wings 16 with your choice of sauce from Alabama white sauce or sweet Asian sauce and cheese dressing and shrimp and grits served with Creole tomato sauce. They also serve sushi rolls that are available on their second floor in the evenings from Monday to Thursday.
Acme Feed & Seed is located in the 2nd Avenue Historic District and has dine-in, takeaway, and delivery on online ordering. You might want to remember that Acme Feed & Seed works on a first come first serve basis.
Address:
101 Broadway, Nashville, TN 37201
7. Ole Red 
Want to groove to some good live music and enjoy a great rooftop experience? Ole Red is the hottest spot in town for just that! Inspired by Blake Shelton's hit 'Ol' Red', this restaurant is known for its lively music and good meals.
They have the best wings in Nashville, hands down! The nachos are drool-worthy, and their burgers are served with fries and house-made Tots. What's more, they also have great options for vegans and a kids' menu filled with cheeseburgers, mac n cheese, and chicken tenders.
Ole Red, located on 300 Broadway, is the perfect spot to have a great night filled with entertainment, being the music of the city, I would really recommend you visit this restaurant for an amazing time.
Address:
300 Broadway, Nashville, TN 37201
8. The Hampton Social
A great place for lunch, The Hampton Social is the perfect place to enjoy some summer vibes. They recently opened their rooftop dining with both indoor and outdoor seating.
They are known for their coastal-inspired cuisines and serve some of the best lobster rolls in the city. Their lobster roll is available in Manhattan style as well as in Maine style and you should not miss out on it!
Their most unique dish is the sparkling seafood tower that has oysters, shrimp cocktail, snow crab claws, ceviche, and demi bottle sparkling rose in a beautiful ensemble.
It is the perfect place to enjoy with your friends and is located on 1st Avenue South. You must remember to make a reservation for your table by heading over to their website before going.
Address:
201 1st Ave S, Nashville, TN 37201
9. Bobby Hotel Rooftop Lounge
They have igloos! No, not those made of ice but definitely made to make you feel cozy. Dine under the stars in these igloos on the rooftop. This lounge will give you a wintry feel with its setting, soft ambiance, and delicious food.
It's a great place for special occasions and an intimate gathering. They serve small plates with food ranging from nachos, fries, and winter soups and stews.
Now if you are visiting this place then don't forget to enjoy their rooftop bar, they serve some amazing cocktails and trust me it feels so good to enjoy drinks while enjoying the view from the top.
It is located on the third floor of the Bobby Hotel on 4th Avenue North.
10. Harriet's Rooftop
You can visit Harriet's rooftop at 1 Hotel which is at the heart of downtown Nashville. This place feels like a breath of fresh air with its special rolls and delicious seafood dishes.
With a stellar skyline view and a comfortable sofa seating arrangement, you will feel on top of the world. Their menu has a range of dishes like Purple Haze, seafood, delicious rolls, and a great selection of drinks to choose from.
Harriet's is a fun-filled rooftop restaurant that will leave you mesmerized by the lovely view and satisfied with its delicious food.
Address:
710 Demonbreun St, Nashville, TN 37203
11. E3 Chophouse
If there is one place that is known for steaks, it is E3 Chophouse. I drooled when I saw the steaks they serve. Their 16oz E3 Ribeye and 10oz E3 Filet are the ones that will leave you coming back for more.
Some other popular dishes include Lobster Mac & Cheese made with Maine Lobster meat, Parmesan Manchego, and Herbed crumbs and Seared Scallops that will melt in your mouth.
You can also reserve a private room for your group of 6 to 16 people for a specific dining experience here.
Don't forget to check out their delicious dessert options especially the Remy's Royal Decadence which is a Noelle dark chocolate cake. It is located on 21st Avenue South in Nashville.
12. The Twelve Thirty Club
With a splendid view of the night sky and great space for any kind of dining experience that you wish to have, the Twelve Thirty Club can grant your wish.
It is the perfect rooftop restaurant for a large dinner, launch parties, or fundraising events with live DJs that you can make a reservation for.
Some of their popular dishes that you should try out include warm butter poached king crab, Rainbow Roll with tuna, salmon, lump crab, avocado, and crispy Brussels Sprouts.
For dessert, I highly recommend their Tennessee Lemon Pie with wild huckleberry. Absolutely delicious!
The Twelve Thirty Club is located at 550 Broadway and offers only dine-in service.
Conclusion
It's your time to feel on top of the world (literally), by visiting one of these amazing rooftop restaurants in Nashville.
Whether you are planning an intimate dinner with your partner, a loud party with your friends, or a casual meal with your family, you can find the perfect rooftop restaurant here in Nashville.