Best Navy Yard Restaurants in Washington DC 2023
If you are a visitor then there are some neighborhoods such as Navy Yard which are highly recommended if you are visiting Washington, DC.
And especially if you are there to watch a baseball match or waterfront attractions, after enjoying all those stuff, you need to feed yourself to explore more and for that, I am here to help you out in finding the best Navy Yard restaurants in Washington DC.
For all foodies out there, Navy Yard won't disappoint you, there are some top-rated restaurants in the Navy Yard area that offers a wide variety of cuisine, and you will all love it for sure.
Best Navy Yard Restaurants in Washington DC
So, here is the list of the best restaurants in Navy Yard.
The Salt Line
I love seafood, I literally do, and if you are also a seafood lover then you can not miss The Salt Line restaurant in Navy Yard.
The Salt Line is highly popular for its seafood, it is one of the best restaurants in DC and Navy Yard for the best quality of seafood.
Also Check: Best Brunch Spots in Washington DC
One of the best dishes at The Salt Line is the New England-style lobster roll, if you are planning to go there to taste the city's amazing seafood then this is the must-try dish.
And if you are a burger lover, The Salt Line is equally popular for their Smash burgers, I have tasted it and I can tell it is the best in the area.
Overall, The Salt Line is one of the best Navy Yard restaurants for seafood lovers.
Shilling Canning Company
There are so many tasty dishes at Shilling Canning Company that it is very difficult for me to point out any single one.
According to customer reviews, it is considered the best Navy Yard restaurant in Washington DC.
I once went there to celebrate my birthday and I ordered the most famous Chesapeake Crab Cakes, the best part about it is that they are made with jumbo crab meat which they outsource from Chesapeake Bay. It is well served with vegetables, it tasted so good, I highly recommend you guys try it out if you are going there.
If you don't like to eat crab then you can order Fried Chicken & Biscuits, which is also a very popular dish of Shilling Canning Company. They serve it with honey butter and pickles which taste finger-licking good.
Bluejacket Brewery
In our second position, we are including Bluejacket Brewery which is one of the best Navy Yard restaurants for beer lovers.
How can I forget my beer-lover friends? if you want to enjoy some chilled beer in Navy Yard, Bluejacket Brewery is the place for it.
This place attracts all beer enthusiasts, you will definitely enjoy their high-quality craft beers.
And not only beers, this place also serve delicious food options. Bluejacket Brewery's Spicy Fried Chicken Sandwich is the best if you are going there to enjoy some beer with food.
And if you are a burger lover then Smokestack Burger on their menu is the best one, I always order it with some chilled beers and I enjoy it every time I go there.
All-Purpose Pizzeria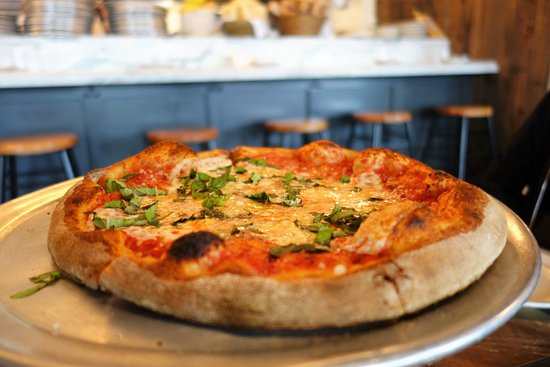 My craving for Pizzas never stop, and I know you guys are also a big time Pizza lover, and in fact many people ask where to find the best pizza in Washington DC, so here you go, All-Purpose Pizzeria is the best restaurant in Navy Yard if you want to enjoy some high-quality Pizza.
What I really like about this place is that they serve pizza in a very creative way, they have classic as well as unique styles of Pizza.
My favorite Pizza at All-Purpose Pizzeria is the Pepperoni Pizza. I can confidently say that it is the best Pepperoni Pizza I've ever tasted, the best part is they cook it in a wood-fired oven.
And not only Pizzas but they do have options for small plates and pasta as well. I didn't like pasta that much mainly because I am not a Pasta guy, I never liked it, but if you do like pasta then you can try it.
Osteria Morini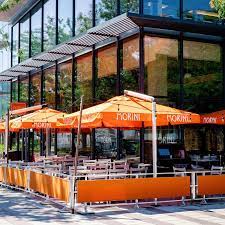 I love Italian food, and whenever I crave Italian food there are very few Italian restaurants that I visit, Osteria Morini is one of them. Not only in the Navy Yard neighborhood but Osteria Morini is one of the best Italian restaurants in Washington DC.
If you are in the Navy Yard hood and you love Italian food then you can not miss this place. Especially their popular stuffed pasta which goes by the name "Cappelletti". Whenever I go to this place, I make sure to order a Cappelletti, they serve it with flavorful broth that is tasty enough to make you fall in love with it.
And how can we forget desserts, Osteria Morini server varieties of desserts, and my favorite among all is Gelato, I love it, especially the hazelnut flavor.
You can also go to this restaurant for your special occasions such as anniversary or romantic date, the place's ambiance is perfect for such occasions.
Chloe
Chloe restaurant is a very popular contemporary American restaurant located in the Navy Yard neighborhood of Washington D.C.
The food that is served here is so tasty that people travel a long way to come here, Chloe is a perfect American restaurant that has maintained its image as one of the best restaurants in Washington DC.
It is very hard for me to point out the single best dish because there are so many dishes that are my favorite, and I literally can not tell you the best one. But if you are going there then below are dishes recommendations that you can try.
All steak lovers out there, if you are going to Chloe then don't forget to try Grilled Hanger Steak, it is served with vegetables, potatoes (roasted), and a sauce (the sauce is very flavorful).
Related Article: The 8 Best Food Trucks in DC
And their Pan-roasted chicken, the juicy chicken is roasted in the pan which adds a smoky flavor to it and they serve it with so many fresh vegetables and a tangy sauce, believe me, it tastes heavenly good.
Chloe also serves small plates and season-friendly desserts, however, it changes with the season, so you need to go and discover what is currently available according to the current season you are going in.
Rasa
Indian cuisine is something different, and to my all friends who want to taste Indian cuisine in Navya Yard, Rasa is the place to do so.
Rasa is a popular Indian restaurant, and among all Indian restaurants in Navy Yard or even in Washington DC, Rasa is the best place to taste authentic Indian food.
This restaurant is owned by two Indians who are very friendly and welcoming.
Also Read: Best Breakfast Place in Washington DC
If you are going there then you must try their butter chicken, it is a kind of chicken which is served with curry, the curry is made with different sauces and has lots of butter in it.
Usually butter chicken is served with a side dish called "Naan" which is a kind of bread, usually, Naan is eaten with butter chicken and other Indian dishes.
And how can we forget "Samosa" when talking about Indian restaurants, Samosa is a very popular appetizer in India, it is filled with potatoes and peas.
Indian food is usually very spicy so make sure that you have high spice tolerance before going to Rasa.
Agua 301
We have talked about lots of cuisines here, so how can we forget Mexican cuisine? Well, if you love to try the best Mexican food in Navy Yard then go to Agua 301.
This place is popular for its Mexican food and the best part is it is located near Nationals Park which is a great tourist attraction.
If you are going there then don't forget to try Tacos, literally, they are the best tasting Tacos I have had in Navy Yard, especially the Grilled Fish Taco, highly recommended if you are going there.
Talking about Mexican food and not discussing Enchiladas is not right, right? well, Agua 301's famous Enchiladas are very flavorful and delicious, they serve it with rice and beans.
The atmosphere of the place is also very welcoming, overall this place is heaven for Mexican food lovers.
TaKorean
TaKorean is a Korean cuisine restaurant located in Navy Yard, this restaurant is quite popular among Korean cuisine lovers.
If you wanna taste authentic Korean food then this is the best place for it. If you are visiting this place make sure to eat Korean BBQ Beef Nachos, it really tastes very good and unique.
And don't forget to taste TaKorean's famous fried chicken, don't confuse it with your regular fried chicken, this is something different, it is more of Korean style fried chicken in which they have used Korean spices that give it a very unique and delicious taste.
And not only Korean but they also serve Mexican cuisine as well, so if you wanna enjoy Korean food along with some Mexican food then this place will not disappoint you. I have tasted their Tacos, and they were good but not as good as Agua 301's.
Declaration
The Declaration is another famous Navy Yard restaurant which is famous for its wood-fired Pizza, burgers, fried chicken, and American cuisine.
The declaration is highly recommended for those who wanna celebrate special occasions, this place is perfect for it as you can order a wide variety of dishes.
If you are going there then my personal recommendation is to try their wood-fired pizza and Brussels Sprouts.
If you are a cocktail lover, then the bar program of Declaration will really attract you as they have a lot of creative cocktails. My personal recommendation is to try Declaration Punch which is made with rum, brandy, and fruit juices.
The happening atmosphere of this place will really lift your mood. Overall, this place is perfect for special occasions and normal dining.
Wrapping Up
That's it everyone for this article, we will keep updating the list in the future and we are also open to suggestions. If you know any best Navy Yard restaurants that you think we missed in this article then do let us know and we will try to include it in our list.
Do let us know what you think about our list of best Navy Yard restaurants in Washington DC.