12 Best Restaurants in Lakewood, CO
Y'all keep asking me what are some best restaurants in Lakewood, CO, so here I am today sharing some of the best places to eat and enjoy food in Lakewood.
Situated just west of Denver, Lakewood is a place that is brimming with culture and vibrant art work in its city. But as a local or visitor, all of us foodies are curious about the kind of food here right? So here's some good news that will get the food lover in you squealing with joy- Lakewood has a wide range of culinary options and you can find any food that you are craving here!
Lakewood is filled with cuisines from the Mediterranean, Asia, Southwestern, and many more in restaurants like Simms Steak House, Union, First Watch, Sushi Den, and many more.
So hop on for this wonderful adventure of discovering some of the best restaurants in Lakewood and read on to find out all about it.
Best Restaurants in Lakewood, CO
Let's begin our list of the top 12 best restaurants in Lakewood, so if you want to enjoy your best food-eating experience in Lakewood then consider any of these below listed best restaurants in Lakewood and I am sure you won't be disappointed.
Westrail Tap & Grill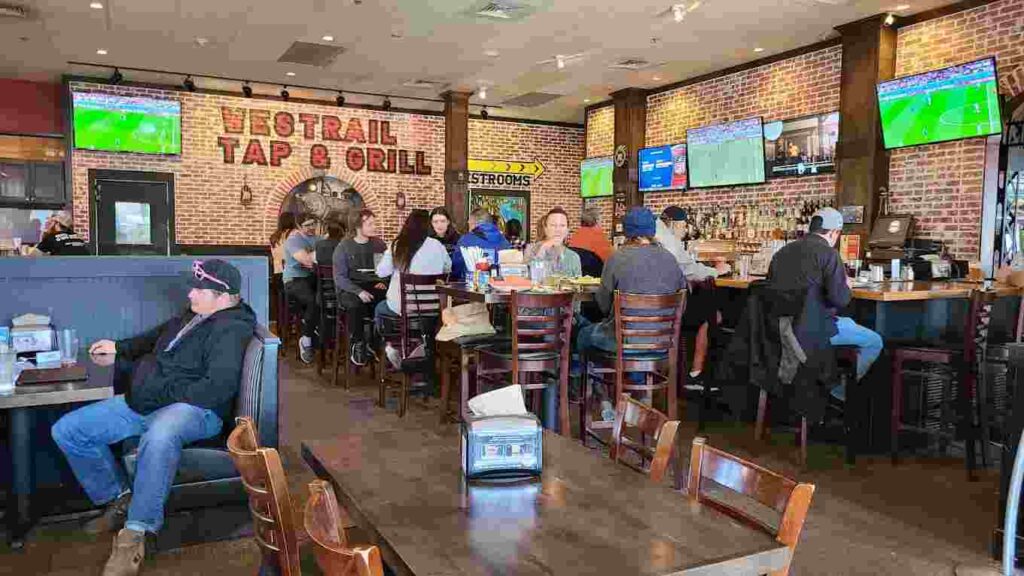 Looking for some of the best burgers in town with a way to watch your favorite teams play? Westrail Tap & Grill is the perfect restaurant to hang out with your friends and root for your favorite sports team while watching them play on the big screen TV here.
It is a buzzing and lively atmosphere to lighten your mood and enjoy great American cuisine with its burgers, sandwiches, chicken wings, and some drool-worthy tortilla chips.
Don't forget to try one of their daily specials if you happen to visit it on that day. They serve 12oz Prime Rib on Wednesdays only, Huevos Rancheros on Saturdays and Sundays only, and the delicious French dip on Thursdays only.
It is located on South Union Boulevard and opens at 11 am every day. You can also order some craft beer or cocktails to go with your meal.
Address:
195 S Union Blvd, Lakewood, CO 80228
Simms Steakhouse
Did I mention that Lakewood is a lovely city and has the most calming vibe about it? Yes, it does, and you can enjoy this city view in Simms Steakhouse with its special seating. And to top it off they also have the best steaks out here!
Their New York Strip and Center-cut Filet Mignon are some of their best steaks with the perfect amount of flavors added to them. Along with these delicious steaks, they also serve other meat dishes and seafood such as roasted chicken, crab Oscar, and scallops among many others.
While you're here on 6th Avenue, don't forget to try the Chilean sea bass that will literally melt in your mouth with the first bite.
Address:
11911 W 6th Ave, Lakewood, CO 80401
Ted's Montana Grill
I am a steak lover, and I always look for the best place to enjoy steak, and if you are like me who always crave for best steak then Ted's Montana Grill is another popular steak house in Lakewood, to be precise it is located on South Teller Street.
Not only do they have some best steak but also authentic American dishes loaded with amazing flavor, and taste.
The overall place is really relaxing and versatile, perfect for chilling with friends or families. Even if you want to go on a romantic date then also this place is perfect for such occasions.
And if you are about to visit this place then don't forget to try their Steak(of course), burgers, and other seafood that they have on their menu.
For starters, you should definitely try the Bison nachos with Pepper jack and their crab cake with guacamole. They have perfectly aged steaks that will want you to come back for more. Don't forget to try out their mouth-watering desserts and sides to complete your meal.
Address:
330 S Teller St, Lakewood, CO 80226
240 Union
Hop on to find the nicest restaurant and savor the taste of contemporary American cuisine with dishes like pasta, pizza, and seafood. You can relax with your friends and family or have a romantic night out with your partner, and enjoy the delicious food.
On Sunday nights they also serve slow roasted steaks that are made in their wood ovens. If you love your seafood, the Spaghetti 'alla chitarra' and Capellini made with shrimp and lobster is a must try. They also have other meat options and sides to go along with your meal.
It is located on Union Boulevard and they have facilities for dine-in and takeaway.
Address:
240 Union Blvd, Lakewood, CO 80228
Abrusci's Fire and Vine
If your heart is craving for some mouth watering Italian food, Abrusci's Fire and Vine is here to save the day. Located on Youngfield Street, this restaurant offers food ranging from soups and salads to pizzas, pastas, and sandwiches along with some great side dishes.
You should try out their Hot Honey Pizza which will surely melt in your mouth! So grab your friends and head to Abrusci's Fire and Vine to have a lovely Italian-style meal.
The Keg Steakhouse and Bar
Here's another restaurant where you can find the most delicious steaks and seafood dishes in Lakewood. If you want to have a lovely meal with your family or friends on the patio and enjoy the beautiful weather, The Keg's have exactly that.
Some of their most popular steaks are their prime rib and Filet which will melt in your mouth with its perfect taste and seasoning. You can customize your steak according to what you prefer and choose among rare, medium rare, and many more.
You won't find a place like this anywhere else here! So head over to West Colfax Drive and enjoy a great meal with some drinks of your choice!
Address:
14065 W Colfax Dr, Lakewood, CO 80401
Yard House
With the world's largest selection of draft beer, Yard House is known to serve great food inspired by the chefs' Californian roots. You can satisfy your craving for some finger-licking good tacos, drool-worthy pizzas, or amazing burgers and sandwiches here.
They also serve starters that are heavily focused on seafood like shrimp and tuna. Their warm staff and speedy service will make you feel completely at home. You can literally order anything from their menu, and I guarantee you it is absolutely delicious.
It is located on West Colfax Avenue and has a happy hour from 3 pm to 6 pm from Mondays to Fridays.
Address:
Colorado Mills, 14500 W Colfax Ave, Lakewood
GQue BBQ
Who doesn't love a barbeque spot? We found one right here in Lakewood on Alaska Drive. It is a beloved barbeque spot by all the locals here and visitors.
They serve barbecued pork sandwiches and lean briskets that are out of the world. You have to try out their signature sandwich as well which includes the meltdown with beef brisket and sauce and the sasquatch that has beef brisket and cheddar sauce topped with apple coleslaw.
So sit down and order some great barbeque dishes to have the best meal that will keep you coming back for more!
Address:
7085 W Alaska Dr, Lakewood, CO 80226
First Watch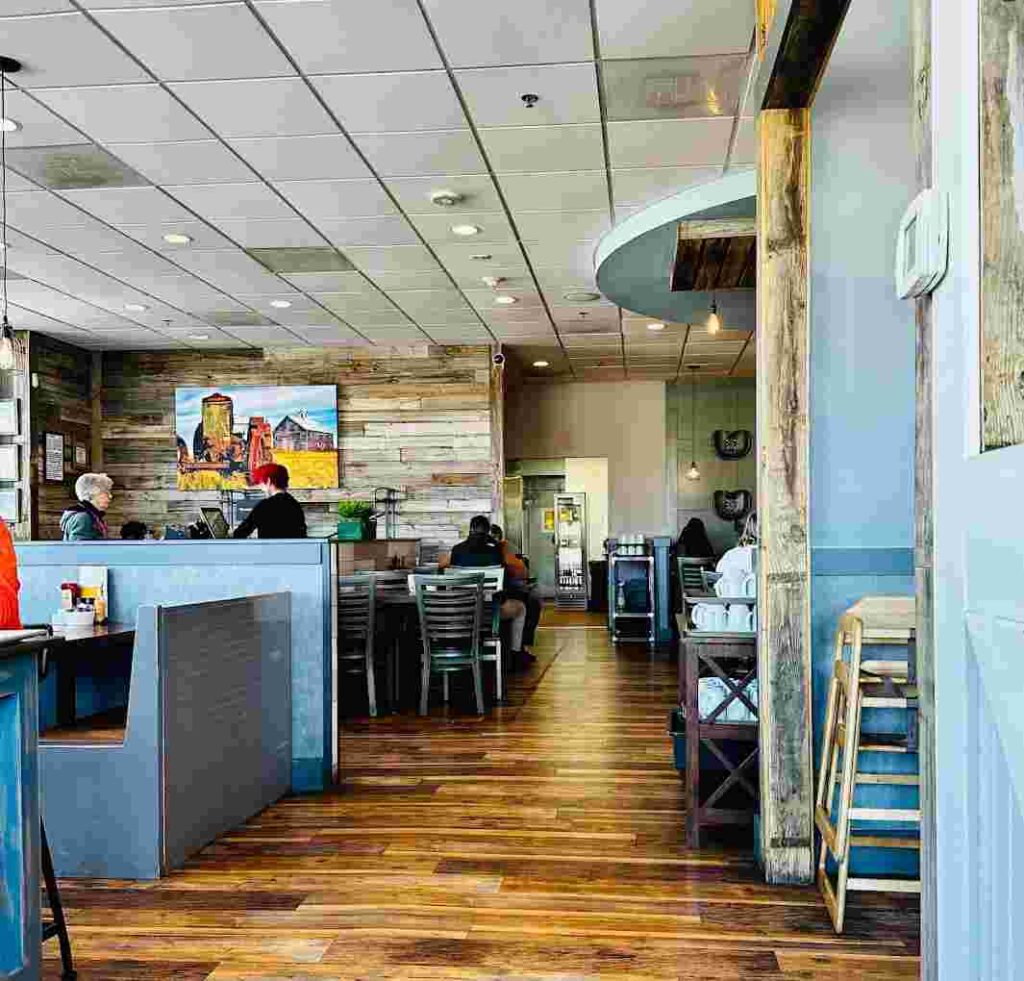 Too hungry but feeling crazy lazy to make a good breakfast? Head over to West Alameda Avenue and have a warm, healthy, and delicious breakfast.
You have to try their delicious strawberry tres Leches French toast and bacon, which are the latest flavors they introduced for the summer. Head to First Watch to feel the complete summer vibe from their amazing whipped honey butter, and smokey briskets to watermelon wake-up drinks and mint mochas. YUM!
Address:
7830 West Alameda Avenue Ste 101&102, Lakewood
Sunrise Sunset
Speaking of breakfast restaurants, Sunrise Sunset is another amazing breakfast place for the best dishes like roll out-a-bed with cinnamon rolls and omelets to get a beautiful start to your day.
Not in the mood for omelets? They have you covered! With their Sunny Salsa which includes Italian sausage with melted cheese, and Sunbutton with mushrooms, they have a large variety to suit all your breakfast moods.
Head over to Wadsworth Boulevard and enjoy a lovely breakfast in the warm rays of Lakewood's sun. They also serve lunch and undertake deliveries.
Star Thai
If you were looking for some Thai and Chinese cuisine, here it is in Star Thai. Located on West Jewell Avenue, it is one of the few places in Lakewood where you will find the best dining experience of Thai dishes.
The chefs at Star Thai are really talented and will make you feel like you are eating at some authentic restaurant in Thailand.
They have delicious noodles, rice with various options like vegetables and meat with mouth-watering curries, and Thai desserts that will transport you to the streets of Thailand.
So if you're in the mood for some flavorful Asian dishes, head straight to Star Thai and enjoy their meals.
Address:
8048 W Jewell Ave, Lakewood
Cafe Jordano
In the same streets of Jewell Avenue, there is a casual Italian family restaurant where you can enjoy your special occasions with your friends and family. Be it your birthday, anniversary, or graduation, or you're just hungry, you can head here and have a lovely time.
Some of their popular dishes include Lasagna, Spaghetti, and pasta that will melt in your mouth with their amazing sauce and creams. You can pair these meals with some hot tea, coffee, or espressos or stick to your regular soft drinks.
They have a special kids menu too, so you don't need to worry about your little ones!
Address:
11068 W Jewell Ave, Lakewood
Conclusion
Food scene in Lakewood is really good, this place is full of amazing restaurants that are unique in their own way. You will enjoy different cuisine, as well as an amazing vibe.
Whether you are looking to enjoy a lovely meal with drool-worthy food and an ambiance with lovely vibes, lively music, or a buzzing crowd, Lakewood has it all!
From scrumptious breakfast meals to flavorful Thai Noodles in the middle of Colorado, Lakewood can satisfy your soul with its amazing dishes prepared by the most attentive chefs and serve by the warmest wait staff. 
Restaurants in Lakewood aren't limited to this list, there are still plenty of best restaurants in Lakewood, however, it is not possible for me to include all of them in a single article but if you think I have missed your favorite restaurants in Lakewood, CO then do let us know and I might consider adding your suggestions in this article.