12 Best Pizza Places in Portland (2023)
Wanna know the best places in Portland? don't worry in this guide, I will take you all with me to some of the best Pizza places that are available in Portland.
Who doesn't love Pizza, I guess, no one, right? this popular Italian dish ranging from thin crusts to thick-made ones, exciting toppings, and plenty of cheese has made it one of the most popular foods.
Many places across the globe are known to have the best pizzas, including the largest port city in the U.S., Portland. If you are a local or visitor in Portland and are wondering where you can find the best pizzas to satisfy the pizza lover in you, this is the right place to be.
Portland has some of the best pizzas from places like Apizza Scholls, Pizza Jerk, Sizzle Pie Central Eastside, Ken's Artisan Pizza, Lovely's Fifty Fifty, Nostrana, Life of Pie, and Scottie's Pizza Parlor to name a few.
Are you curious to find out more about the best pizza places in Portland, Oregon? Keep reading to know all about them.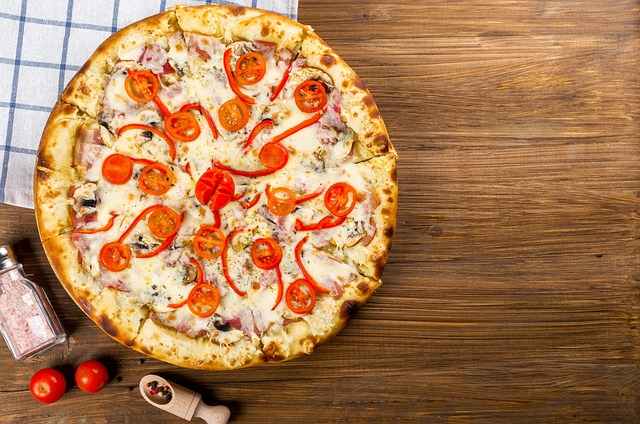 Best 12 Pizza Places In Portland
So, today I am sharing around 12 best Pizza in Portland, I have tried all of the below-shared places, and I can tell you all these Pizza places in Portland are the best.
1. Ken's Artisan Pizza
Starting our list of Best Pizza in Portland with Ken's Artisan Pizza.
One of the best pizzas in the world, Ken's Artisan Pizza was on the list of 50 top pizzas and named one of the best pizzerias in the country! Located in southeast 28th Ave, it is in a bustling spot with delicious pizza flavors wafting in the air that reaches the pedestrians as well.
With authentic Italian flavors and an American twist to it, you can find all kinds of pizzas here. From the basic Margherita to Soppressata with Calabrese salami, they have them all. 
Also Read: 10 Best Restaurants in Portland 2023
Some of their most popular pizzas are handmade ones with fresh mozzarella, interesting sauce, and fennel seed.
If you love your pizza with customized add-ons, they have a vast range that includes burrata, anchovies, Calabrian chiles, arugula, and any meat of your choice. They have options for both dine-in and curbside pick-up.
2. Lovely's Fifty Fifty
If you are looking for a great dine-in experience with mouth-watering pizzas, Lovely's fifty fifty has the best of both! Their pizzas are known to have unique toppings with a well-baked and crispy crust that comes right out of the oven and is served directly to your table.
Pizza pies are available in interesting variations such as stinging nettles with taleggio and guanciale and snap peas with zucchini, basil, and gabiteau that I haven't seen anywhere before.
They keep seasonal dishes on their menu so you have to try it out before they swap it! It is located on Mississippi Ave and has facilities for dine-in, takeaway, and delivery.
3. Nostrana
Located in Southeast Portland, Nostrana has the loveliest wood-fired pizzas that you cannot miss out on. The pizzas here are served in the traditional Italian style with hand-made mozzarella and naturally leavened dough.
The most popular pizzas include D'alto Mare which is topped with calamari, arugula, and garlic-chili breadcrumb, Funghi Verde, and Alla Fiamma. 
Also Read: 10 Best Desserts In Portland
I would recommend you make reservations well in advance to have the best dine-in experience.
4. Life of Pie Pizza
Do you want to try the best Margherita in the city? Life of Pie has you covered. Covered with mozzarella, marinara, and fresh basil, these pizzas will leave your taste buds satisfied like no other.
They also have pizzas topped with vegan cheese and nutritional yeast parm, pecorino romano, and EVOO base – mouth-watering to say the least.
They have two outlets in Portland, one on Northwest 23rd Avenue and the other on North Williams Avenue with options for dine-in, takeaway, and delivery.
5. Apizza Scholls
Apizza Scholls has the freshest pizzas you'll find in Portland. The toppings and ingredients are unique that will leave the pizza melting in your mouth.
You can build your own pie with 3 ingredients of your choice and 2 meat toppings among sausage, hot capicola, pepperoni, and house-cured Canadian bacon. Remember to savor it while it lasts because you'll gobble it down in no time!
It is located in Southeast Portland and has facilities for dine-in, takeaway, and delivery.
6. Pizza Jerk
Are you looking for a place to hang out with your friends and just chill while having the cheesiest pizzas ever? Pizza Jerk is the place you're looking for. They have the most delicious pizzas with gluten-free and vegan pizza options upon request as well.
Their popular pizzas include Margherita, Kale Blazer with fennel sausage, and It's always sunny in Cully which is topped with pepperoni and pineapple with a swirl of honey.
They have two outlets, one in Northeast Portland and the other in Southwest Portland. You can go to any outlet according to your convenience.
7. Sizzle Pie 
Sizzle Pie Central Eastside makes the kind of pizzas that you could eat all day, every day. Their daily slice specials have slices from pizzas like Goodfella, Napalm Breath, and Gold Ring that have thin crusts with fresh vegetables and cheese as toppings.
If you love meat on your pizza, their 6 Degrees of Kevin Bacon topped with bacon and pineapple and Raising Arizona with chicken, bacon, and Parmesan peppercorn sauce are a must-have!
They have vegan pizzas, pure veg pizzas, and meat-topped pizzas for all. They have 3 outlets in Portland which are located in East Portland, Southwest Portland, and Northeast Portland, and also have options for dine-in, takeaway, and delivery.
8. Scottie's Pizza Parlor
Having dough made from wheat grown in the Pacific Northwest, Scottie's Pizza Parlor has crusts that are crisp, airy, and light with the finest quality of ingredients made with love and passion.
The best part about their parlor is the provision of Par-Baked pizza that is unsliced and can be baked in your home oven on days when you are all cozy at home and are craving a pizza.
Some of their popular pizzas are cheese pizza, Margherita, and green chile. The best thing is they have two outlets in Portland, one in Southeast Portland and the other in Northwest Portland, to my surprise both of their outlets are clean and have a good ambiance. You can visit whichever outlet is near to your place.
9. Oven and Shaker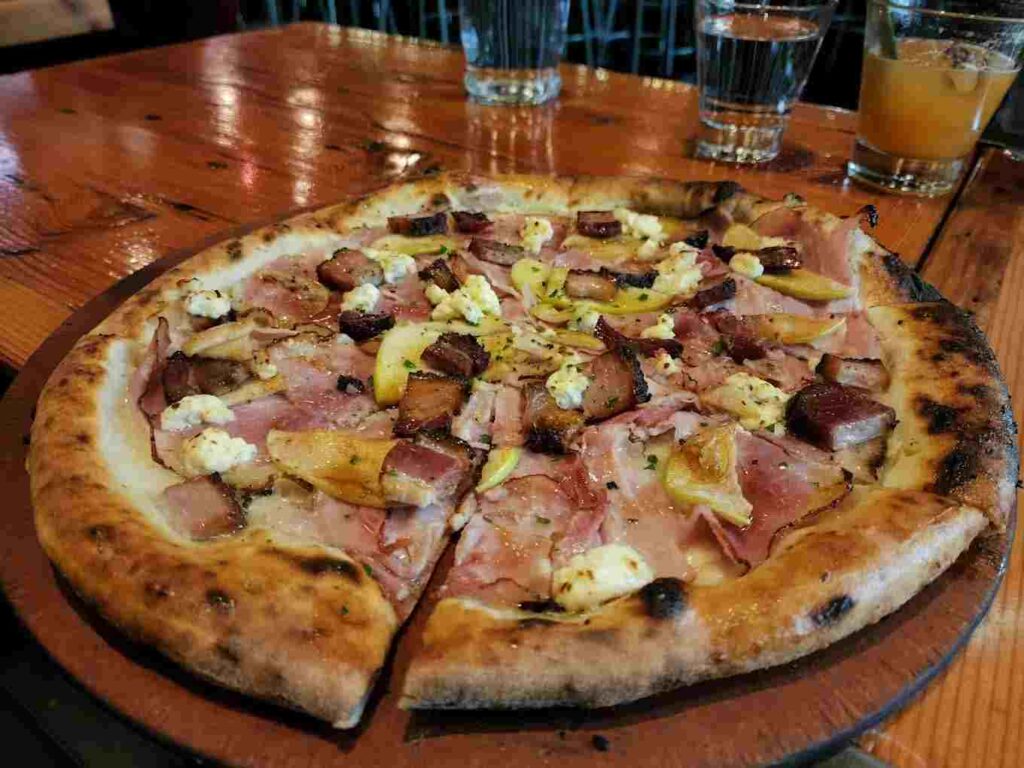 Oven and Shaker is highly popular for its unique style of Pizzas with toppings that you will not usually find in any other Pizza place in Portland.
I would highly recommend you to try Oven and Shaker because of their specialty pizzas like the goat cheese topped with aged balsamic, prosciutto, and leeks, the vegetarian cauliflower topped with cheese, peppers, olive, and fennel diavolo with fennel pollen basil, salami, and spicy roasted fennel.
Their pizzas are famous, and so is the range of their creative cocktails like the pineapple trainwreck and Louisana Handshake that compliment it perfectly.
The Oven and Shaker is located in Northwest Portland and my 2 cents – this place is always full of crowds, especially in the evening, so to get your seat and the best dining experience, I highly recommend booking an upfront reservation.
10. Baby Doll Pizza
Baby Doll Pizza has no baby or doll pizzas but definitely has New York-style pizzas. These pizzas are made from freshly prepared dough and grated mozzarella cheese that has specially made tomato sauce. 
Those who prefer to eat gluten-free or vegan pizza always complain that the taste is not upto the mark as compared to the regular ones, however, that's not the case with Baby Doll Pizza, they prepare their Vegan and gluten-free pizzas with the same taste as their regular ones. And that's why Baby Doll Pizza is one of the best Pizza places in portland.
If you are a cheese-lover like me and love filling your pizzas with cheese all over, Baby Doll Pizza has options for extra cheese, pepper jack, feta cheese, house ricotta, and house fresh mozzarella.
The veggie and meat toppings that you should try out are pickled jalapeno, mushroom, sundried tomato, Canadian bacon, salami, and meatballs respectively.
Baby Doll Pizza is located in Southeast Portland and has facilities for dine-in, takeaway, and no-contact delivery.
11. Rudy's Gourmet Pizza
Personalize your pizza with Rudy's Specialty pizzas where you can choose your toppings and unique flavors.
Their Carni-Ru which has ground beef, ham, or Italian sausage with Rudy's tangy red sauce, and Hot Ling Bling with link sausage and pineapple BBQ sauce are some of the most popular pizzas.
They also have vegan-friendly and gluten-free pizzas for all pizza lovers out there. It is located in Southeast Portland and has facilities for dine-in, takeaway, and delivery.
12. Flying Pie Pizza
Flying Pie Pizza is a go-to pizza stop with delicious flavors and a great environment to enjoy your pizza.
They have a large variety of toppings (34 to be exact) that are served generously on each slice.
Who doesn't love loaded pizzas with cheese dripping from it? (Yup, it got my mouth watering too).
Their Old World pizzas are stuffed baked pies and are a must-try! Genoa topped with salami, mozzarella cheese, and roasted red peppers and Roma topped with fresh beef, olives, and mushroom are their most popular ones.
They also have an option where you can create your pizza with any 4 toppings of your choice, cheese, meat, or specialty topping.
Flying Pie Pizza has 2 outlets, one in North Portland on Lombard Street and the other in Southeast Portland on Stark Street. They have options for dine-in and takeaway.
Conclusion
The pizza scene in Portland is really good, this place has really some good finger-licking Pizza places to offer.
All the best pizza places in Portland that I have shared with you in this article are known for their unique flavors, special pizza sauces, and fresh herbs. And the best part? They have vegan-friendly and gluten-free pizzas as well! 
With this list of best pizza places in Portland, you can find the perfect place to enjoy a drool-worthy pizza in the perfect ambiance and satisfy your cravings.